In late 2019 early 2020 Foodstuffs North Island (FSNI) announced their intention to implement a new commercial model to underpin their growth and performance going forward.
Based on our discussions with vendors and reviews of proposed contract terms and request for tender documents issued by FSNI over the last 18 months, the following trends have arisen in FSNI's negotiation strategies: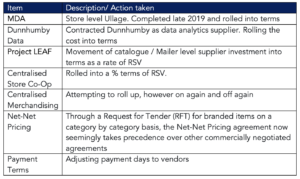 Looking at these recent negotiation trends, it appears that FSNI's strategy has been to move the multiple revenue / income streams across their previous business model into one centralised income stream that has minimal to no risk for FSNI.
FSNI's new Negotiating Pressure…
Since September 2020, FSNI has commenced implementing a "Request for Tender" (RFT) process for all branded products to further simplify the FSNI trading model with all vendors. The RFT process is being implemented as a category by category approach.
In what we perceive to be a deliberate attempt to separate any existing relationships that vendors may have with members of the FSNI Buying Team, each RFT process is being managed by a "Procurement Specialist". The FSNI RFT process stipulates that vendors are not to discuss the RFT process with any FSNI staff member outside the RFT process.  The failure to adhere to this rule may result in a response of a vendor being excluded from the RFT process.
According to RFT documents issued by FSNI, FSNI has incredibly broad rights to manage the RFT process how it sees fit.  To illustrate, FSNI's rights taken from an FSNI RFT document are as follows:
– Change any evaluation criterion, RFT Terms and Conditions, or RFT process;
– Exclude any Respondent or other person from this RFT or any subsequent process for any reason;
– Reject or not consider any non-compliant response;
– Cancel the RFT;
– Waive any non-compliance with the requirements of this RFT;
– Consider any alternative response;
– Accept part of a response from any Respondent;
– Choose not to select the lowest price or highest scoring Tender;
– Liaise, negotiate or contract with, or provide any information to, any Respondent, organisation or other person at any time without disclosing this to, or involving or doing the same with, any other       Respondent or person (whether before, during or after this RFT process);
– Provide to, or withhold from, any Respondent or other person, any information in relation to any question, answer or other information arising in relation to this RFT or any subsequent process;
– Create any number and type of contracts in respect of any of its requirements; and
– Implement, not implement or partially implement any tender.
Strengthening the buying position through this RFT process (according to FSNI), vendors are not permitted to share with anybody or external third party the RFT documentation process without written approval from FSNI.
Further compounding the pressure and what we believe to be a one-sided RFT process, incremental pressure has been placed upon vendors as FSNI seeks to:
– Implement Minimum Target Margins per Category
– Roll all previously negotiated terms into one net price
– Utilise the RFT contract as a means to take precedent over previous agreements with vendors
– I.e. LEAF 1.0 and Centralised Store Co-Op
– Roll in vendor merchandising and field costs as a part of the RFT fund consolidation
Other agreements that have not been included in the RFT remain in place including Dunnhumby, MDA, Warehouse Allowances, and any other agreement such as payment terms.
So what is the real risk to vendors and the broader marketplace?
When reviewing the RFT process in its entirety we have identified several risks to both vendors and the New Zealand market as a whole.
Immediate risks:
1. Loss of control of discretionary spend here and now for vendors
2. FSNI driving category margins to unprecedented levels
3. Tightening of innovation funding by vendors driven by FSNI's latest model eroding vendor profitability
4. Retailers unable to access products previously ranged instore as a result of system restriction
I.e. Excluded Range product classifications through FSNI's SAP operating platform
5. Impacting sales and earnings at store level
6. Increased risk on vendors for:
7. Pricing (note retailers control retail pricing not vendors)
8. Declining merchandising standards
9. Shelf and space management
10.Pak'n'Save wanting to follow the same model
11.Foodstuffs South Island (FSSI) leveraging this business model and rolling vendors on to the same terms
12.Potential for pricing and terms to be transferred over to FSNI's Foodservice and Wholesale businesses, and the potential risk for this becoming the new normal for these channels
Broader long-term risks to the market:
1. The reaction of Countdown
2. Increased unemployment
1. Merchandisers and field sales resources centralised and overall employment numbers reduced
2. Removal of Store Buyer roles in lieu of new trading model
3. Innovation / R&D teams reduced due to leaner internal funding capacity of vendor
3. Higher barriers to entry for entrepreneurs due to higher trading costs with FSNI
1. Further slowing and degrading marketplace innovation
4. Trans-Tasman implications for suppliers who deal with retailers in Australia
I.e. The knock-on effect of these actions as competitor retailers seek to react
So what can vendors do now?
The stark reality facing many vendors is the fact that the RFT process implemented by FSNI will likely result in deletion of their products. This is driven by FSNI's rationalisation of suppliers in what we believe will be every category.
Vendors who are successful in their RFT submission will risk becoming more dependent on FSNI as a result of the contract.
The significant downside in a heavily concentrated marketplace such as New Zealand is that options for vendors are limited. In a marketplace with multiple retail competitors operating in a competitive environment a vendor could independently elect to reject the RFT process and stand against this endeavour by FSNI.
However, many vendors will not have the market power for this approach.
As vendors enter this RFT process we recommend taking the following actions:
1. Seek independent legal advice in relation to every aspect of the FSNI RFT contract to understand the real risk and exposure to your business
2. Document every single concern in regard to the RFT and raise them formally with FSNI before any RFT is signed (or any other customer for that matter) along with proposed amendments you are seeking that provide a mutually acceptable agreement for both parties
3. Qualify with FSNI who the independent third-party mediator is in the event of a disagreement between both parties
1. This person MUST be fully independent
2. Is the independent Mediators decision legally and commercially binding?
3. What is the formal dispute / disagreement resolution process that leads to mediation?
4. Conduct rigorous financial analysis on your business to understand your limitations before submitting or committing to any financial proposal to FSNI as part of the RFT process
5. Be prepared to understand the impact of deletions should you not be successful
6. Be prepared to walk away from doing business with FSNI (New World and 4 Square) if you need to
7. Understand that unless any variation to an RFT contract is in writing and signed by both parties, you must assume it will not happen
8. Commence immediately identifying the new channels, distribution paths, and business development opportunities outside of the mainstream grocery customers to broaden your customer base and reduce dependency on two highly influential grocery businesses in Foodstuffs and Countdown.
What does this mean for the NZ Grocery Industry?
In our last article we posed the question:
"Do vendors in the New Zealand grocery market have equal market power with their grocery retailers?"
It is the right of the retailer such as FSNI to evolve their business model as they see fit. Equally it is the right of the vendor to challenge any such changes in order to seek a fair and equitable arrangement for both parties.
Given the steps taken by FSNI to implement their Commercial Model regardless of implications on their vendors, it is fair to assume that there is a clear imbalance of power between retailers and vendors at present in this process.
In order to protect the rights of the vendors, maintain a balanced and equitable marketplace for both parties, we again recommend that a Grocery Code of Conduct be instated into the New Zealand marketplace.
This is a clear call to action for all vendors in the New Zealand Fast Moving Consumer Goods (FMCG) sector to stand up and voice their concerns. This is done by capturing your concerns with:
Fact-based evidence of events
Retaining copies of correspondence that is forceful in its nature or intent
Keeping records of coercive discussions that take place (who, what & when),
Then sharing these records with the New Zealand Food & Grocery Council (NZFGC) confidentially.
Foodstuffs and its members have some remarkable stores, and in many ways are a benchmark for independent retailers across the globe. They should be a source of immense pride for New Zealand. It would be a shame to see that reputation sullied by these events in a country that epitomises community, impartiality and supporting each other.